Food on board
At Eurostar, we're passionate about the food we provide. Whichever travel class your clients select, we've got a wide variety of food and drink, to suit every taste.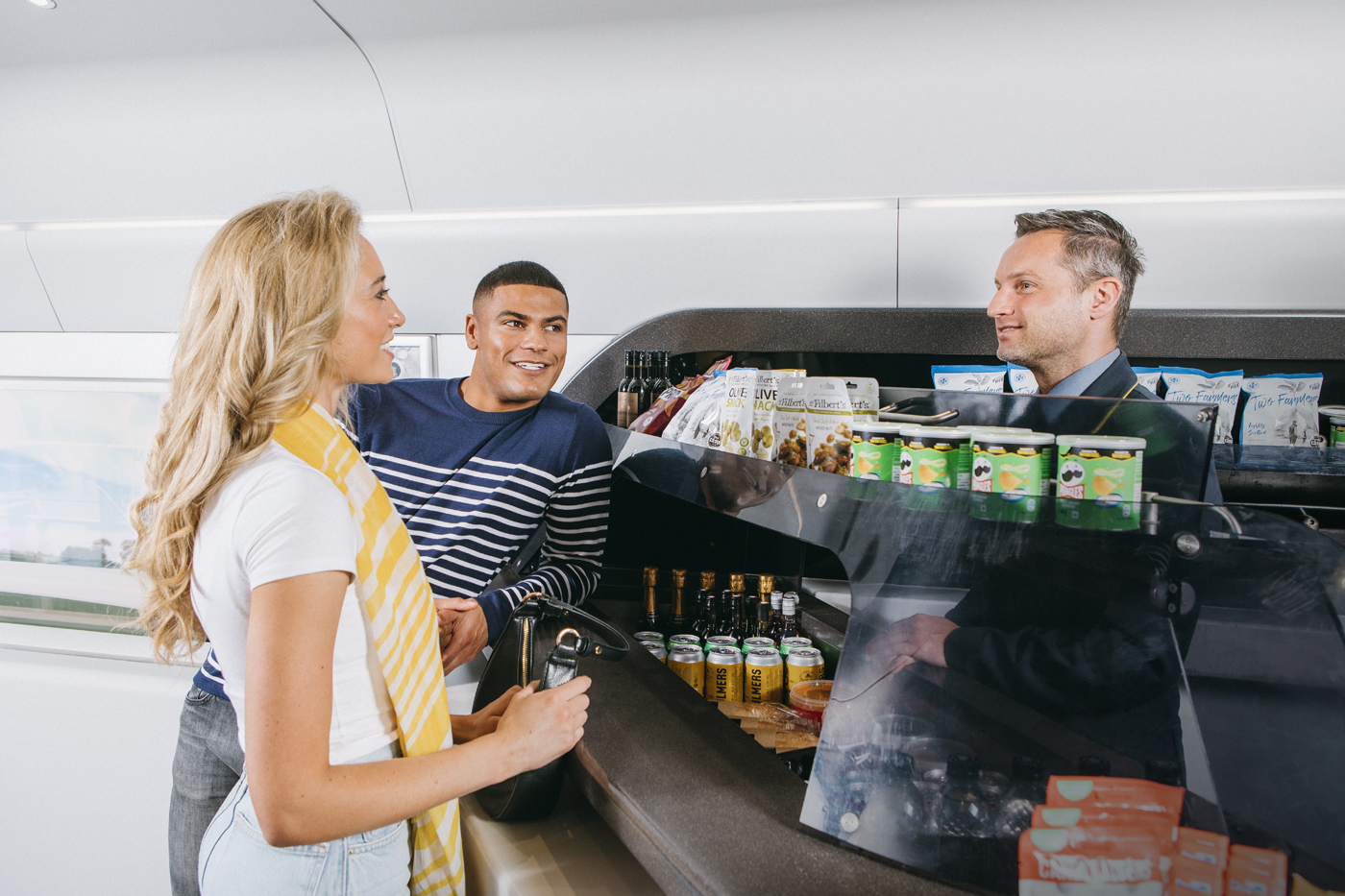 Food in Standard
Eurostar Café serves a range of snacks, healthy dishes and sweet treats as well as a selection of hot and cold drinks – to match every taste and dietary requirement.
Sustainability is at the heart of everything we do, so our menu changes based on the season.
Child-friendly options are available and although we don't sell baby food, we'll be happy to heat up pre-prepared dishes.
Our Eurostar Cafés can be found in the middle of our trains and we accept both cash and cards.
See Eurostar Café menu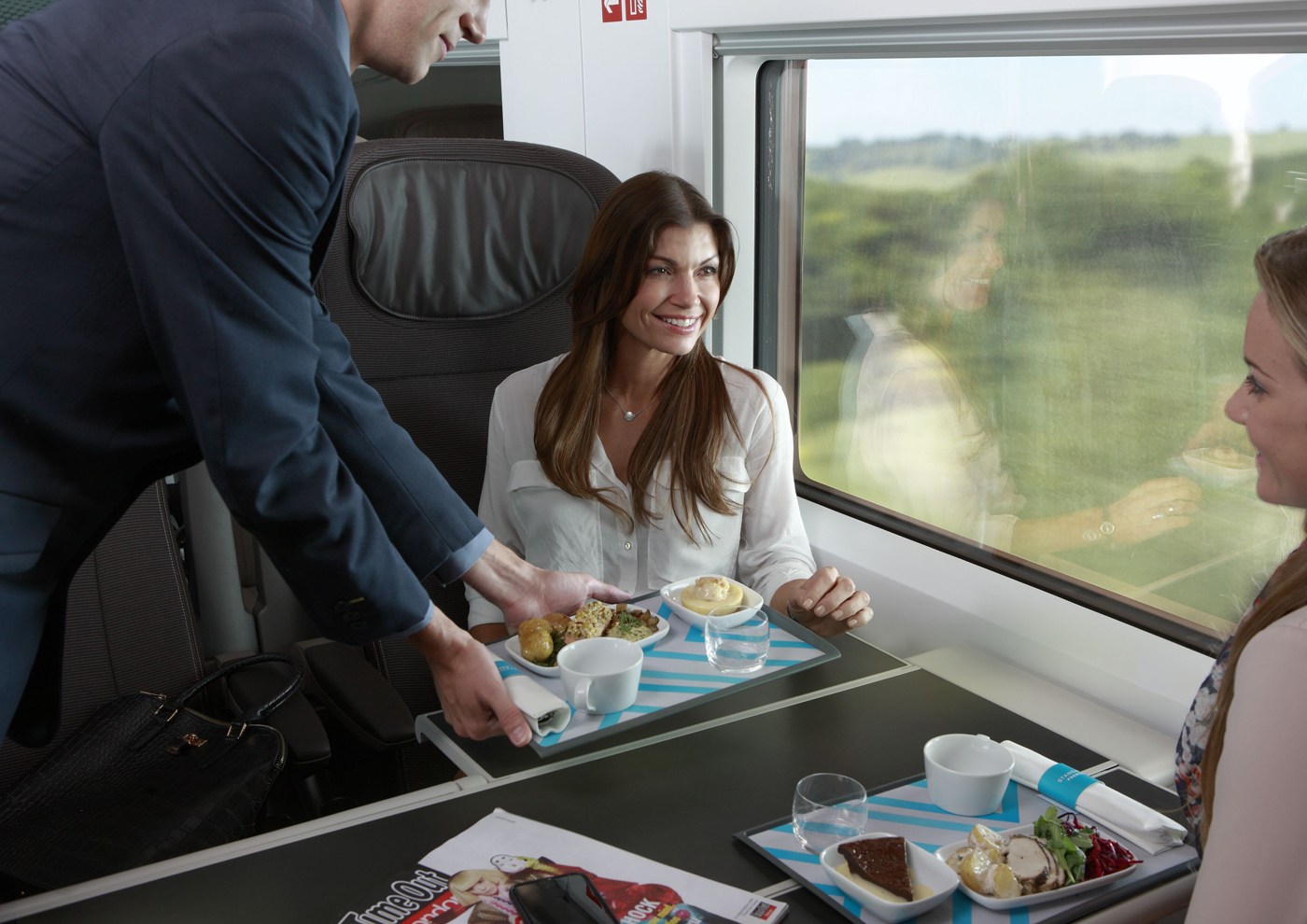 Food in Standard Premier
Customers in Standard Premier are served a cold, light meal and drinks on board – directly to their seat, for added ease.
These dishes are based on the very best local and seasonal ingredients, ensuring every meal is delicious and nutritious.
See our Standard Premier menu
Food in Business Premier
Business Premier clients will experience high-end cuisine, ideal for before or after a busy working day.
Our menu is designed in partnership with Eurostar's Culinary Director Raymond Blanc OBE.
And uses locally sourced, sustainable ingredients, specifically curated for breakfast, lunch or dinner.
A wide range of drinks are on offer throughout the journey, and we also cater to individual dietary requirements. See our Business Premier menu here.
See our Business Premier menu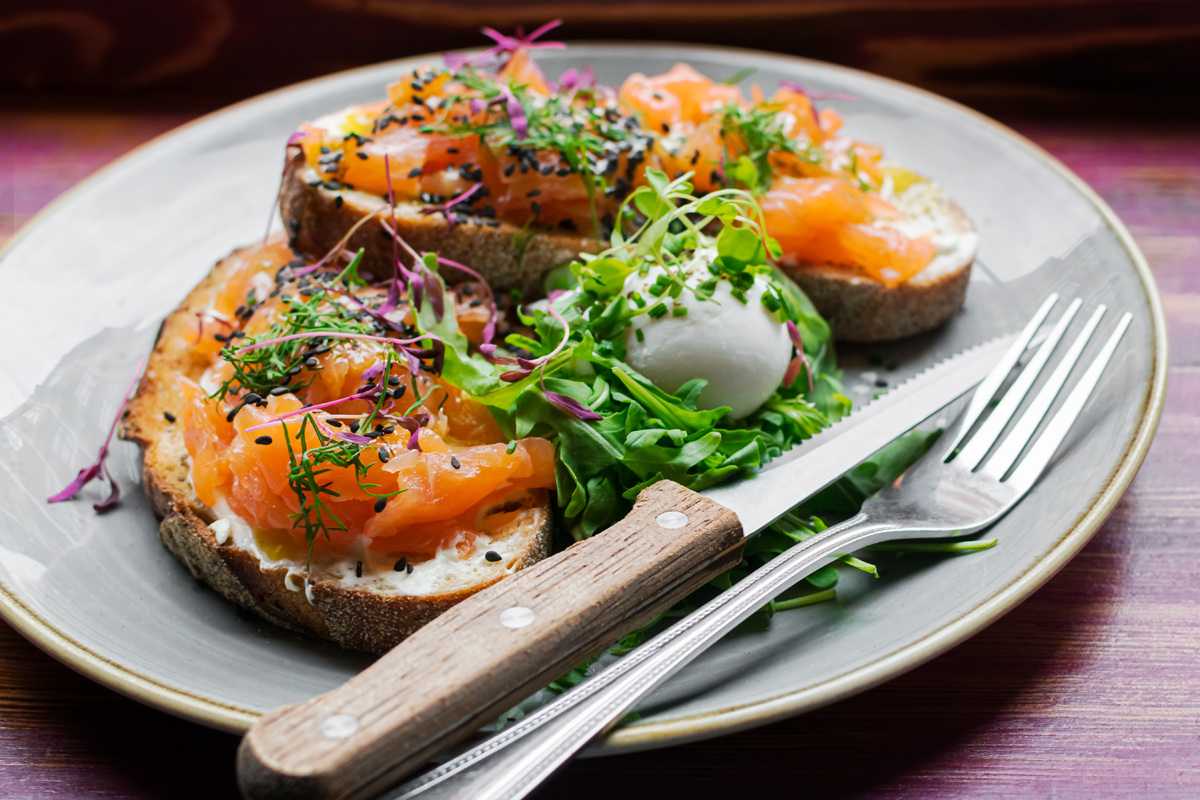 Special dietary needs
Clients with specific dietary requirements, can change their Standard Premier or Business Premier meal prior to travelling.
To choose a meal, customers should log in to Manage a booking and go to change your meal.
We require 24 hours' notice for vegetarian meals and 48 hours' notice for every other meal.
Unfortunately, we are unable to offer a nut-free meal on board our trains.
Please keep in mind
 We'll always do our best to provide a client with their preferred meal, although we cannot guarantee that their first choice will be available.
Meals aren't served on journeys between Brussels and Lille.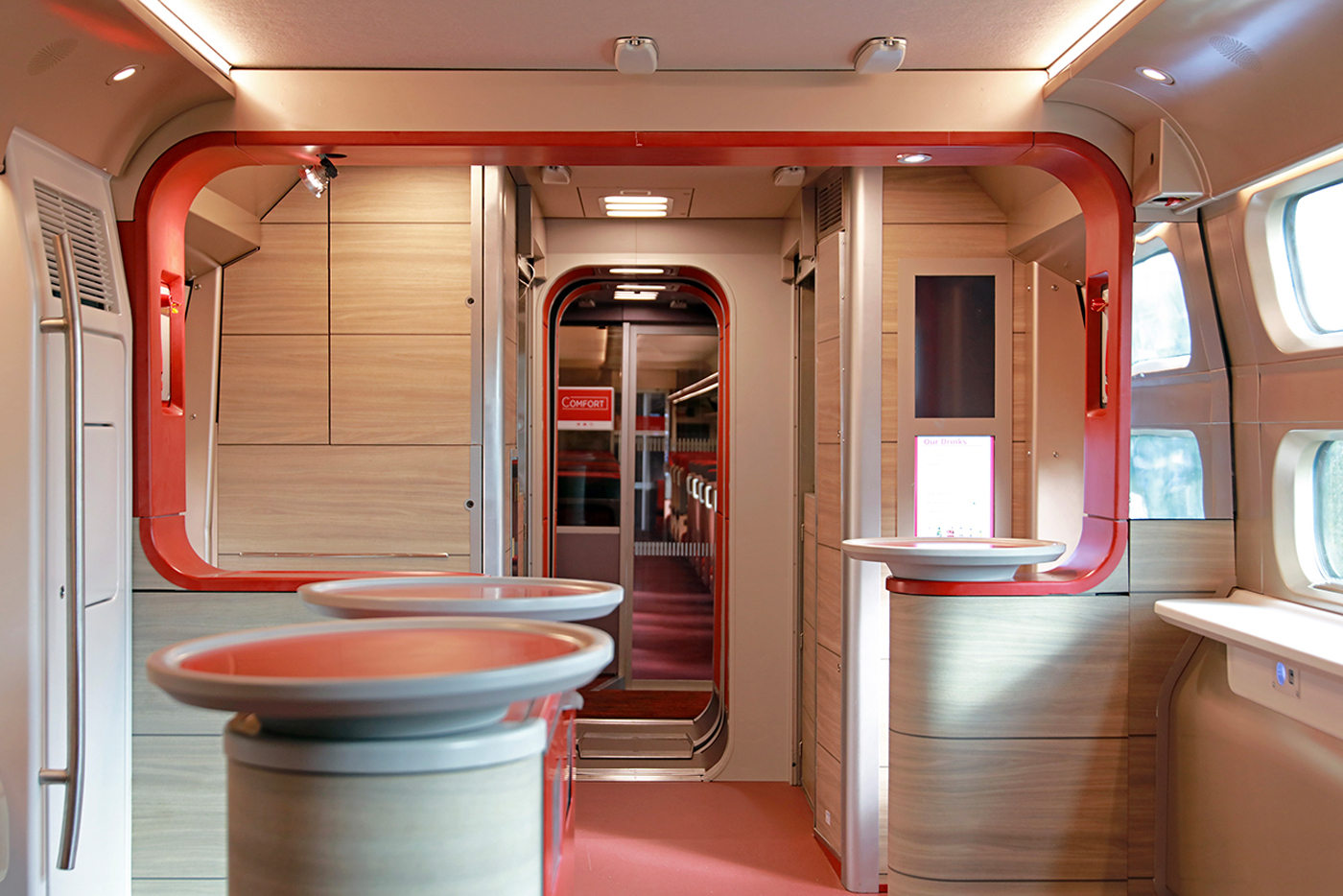 Food in Standard and Comfort
Eurostar Café serves a range of high-quality light meals, on our routes between France, Belgium, the Netherlands, Germany.
Sustainability is at the heart of Eurostar's ethos, and we endeavour to offer clients nutritious, locally sourced food, in environmentally friendly packaging.
A selection of hot and cold drinks are also provided.
To avoid queueing at the Eurostar Café, travellers can order online their drinks and snacks directly from their PC, smartphone or tablet.
See Eurostar Café menu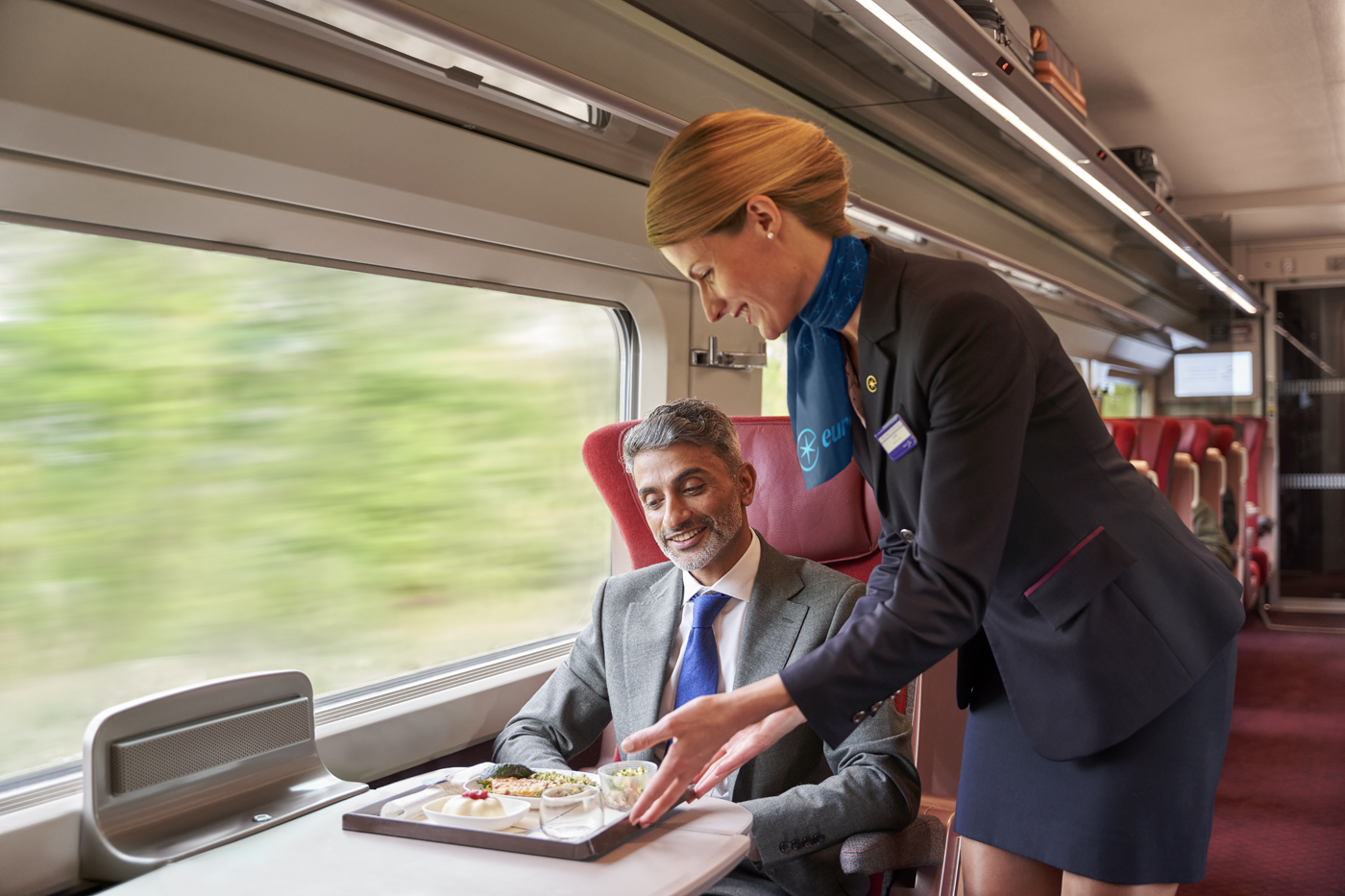 Food in Premium
In Premium, a gourmet meal is served directly to clients seats.
Our Premium menus are designed in collaboration with celebrated Belgian chef Franck Fol, who brings 30 years of culinary expertise to the table.
Fol is an international consultant on fresh and healthy food and widely regarded for his passion for fruit and vegetables.
All our sweet pastries are by Olivier Vidal – one of France's best artisan chocolatiers and a 'Meilleur ouvrier de France' winner.
Meals are served throughout the day and on any international trip over 50 minutes.
See our Premium menu